Vi på projekt Eldbäcken vill önska God Jul genom att dela med oss av lite fina bilder från vårt besök i Tyskland.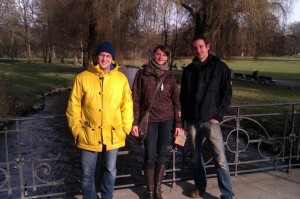 Martin, Lea & Bene
Den 30 november höll Lea Schneider sin presentation av sitt masterexjobb "The effect of biocanal design on benthic fauna assemblages in the Eldbäcken system, Sweden" på sitt universitet i Freising, Tyskland.
Lea har under 2011 tillbringat ungefär ett halvår vid Karlstads Universitet där hon har deltagit i provtagningar och bestämning av bottenfauna i projektet Eldbäcken. En del av informationen som samlats in har analyserats av Lea som en del av hennes examensarbete.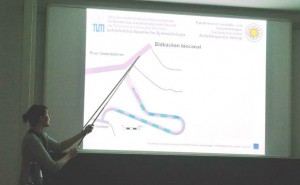 Presentationen genomfördes på engelska så att även de svenska representanterna (Martin och Stina) kunde hänga med och fick ett gott mottagande av de tyska åhörarna.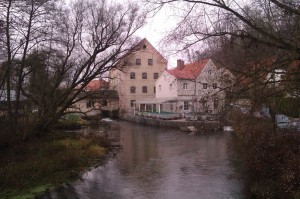 Under besöket fick vi även en rundvandring på universitetet och på avdelningen för "Aquatic Systems Biology", vilken låg i ett charmigt gammalt hus bredvid ett vattendrag.
Stina fick även möjlighet att prova på en för henne ny teknik att samla in bottenfauna på.
Detta genom att använda en "dammsugare" gjord av en pump från badrummet i en husvagn. Med hjälp av denna kunde substratet dammsugas och bottenfauna från olika microhabitat samlas in.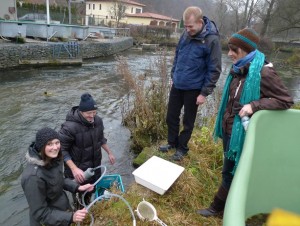 En glad Stina, Jörg Brandner, professor Geist och Lea.
Vi fick även tillfälle att träffa flera andra forskare och doktorander, vilka berättade om sina projekt. Något som var väldigt intressant och lärorikt.
Ett stort tack till alla kunniga, trevliga och
hjälpsamma människor på universitetet i Freising!