Stream aquarium laboratory
NRRV's stream aquarium laboratory is located in building 5F at the Karlstad University Campus, directly below the Biology department. The 250-m² aquarium facility houses four seven-meter long stream aquariums, and in the same room there is also space for approximately ten smaller aquariums (120-600 L). In addition, the stream aquarium laboratory has three rooms with about 30 smaller aquariums of various sizes (120-600 L), and laboratories for research and teaching purposes.
In the stream aquarium laboratory, we can manipulate environmental factors such as ambient light, water temperature, depth and velocity. This enables us to isolate the effects of environmental conditions when studying the fish. We mainly use the stream aquarium laboratory to study the behavior and physiology of salmonids such as Atlantic salmon (Salmo salar), brown trout (Salmo trutta) and grayling (Thymallus thymallus).
Watch a video about the stream aquarium laboratory here (partially in Swedish and Eng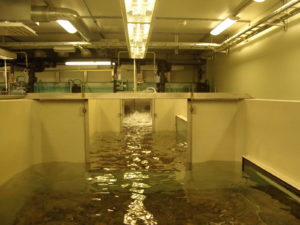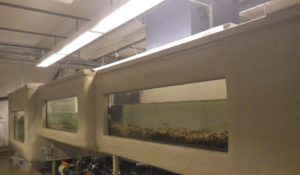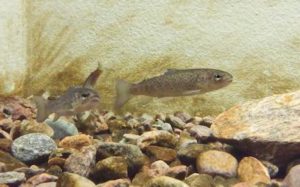 lish).
Both comments and pings are currently closed.