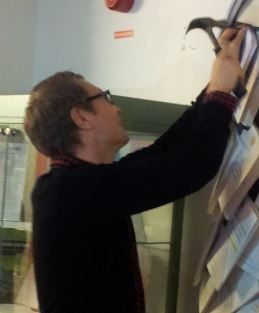 Under den gångna veckan har Johan Watz spikat sin avhandling "Salmonid behaviour under winter conditions". Kappan kan läsas online här. Avhandlingens publicerade artiklar är följande:
Paper II: Effects of ice cover on the diel behaviour and ventilation rate of juvenile brown trout
Paper III: Day and night drift-feeding by juvenile salmonids at low water temperatures
Paper IV: Prey capture rates of two species of salmonids (Salmo trutta and Thymallus thymallus) in an artificial stream: effects of temperature on their functional response
Paper V: Ice cover alters the behavior and stress level of brown trout Salmo trutta
Avhandlingens försvar kommer att gå av stapeln den 22 Januari 2016 kl. 10:15 i Nyquistsalen (9C 203) på Karlstads Universitet. Opponent är Richard Cunjak från University of New Brunswick, Kanada. Alla intresserade är välkomna.