This post covers chapters 8 & 9 from Futuyma and Kirkpatrick's book on Evolution (2018). The author of this post is Jacqueline Hoppenreijs.
Evolution in space
Variation in phenotypic traits can reflect variation in environmental factors on a global scale, such as temperature, or on a local scale, such as nutrient or toxicant concentrations. When this phenotypic variation looks like a smooth transition or gradient, we call it a cline. Such ecological variation is a consequence of the selection pressure's spatial variation and can be seen between and within species, leading to specific patterns of phenotypic traits. An example of such a pattern between species is the occurrence of hairs and cuticles in drought-adjusted plants, that help them retain small amounts of water that they have managed to get a hold of (De Micco & Aronne, 2012). A within-species example is the variation in root depth and structure in individuals of one species that are grown in drier circumstances than others (Lenssen et al., 2004).
Trait patterns are further shaped by exchange between populations of the same species, a process called gene flow that happens through dispersal. Dispersal is different from migration in that it means that an organism ventures out to explore new grounds (or waters) and that it leads to exchange or introduction of genes. Dispersal can be passive (e.g. a seed falls into the water and ends up on a riverbank elsewhere), or active (e.g. an animal starts looking for a more suitable living environment if it runs out of food). There are also forms that could be seen as intermediate, such as plants (Figure 1) that disguise themselves to convince someone else to fix their dispersal for them!
Dispersal can be a bit of a pain, as it requires energy (even if it's only the effort of growing your seeds in the form of poop) and can be dangerous. It can have big advantages though: by dispersing, you get the opportunity to find a more suitable spot to live and you simultaneously decrease the day-to-day competition with your family members in the place where you all are from. You're also more likely to reproduce with an individual from a different population, thus decreasing the risk of inbreeding.
So, it's clear that dispersal can be very profitable, and leads to exchange of genes between populations or establishment of new populations. Gene flow can be measured in multiple ways, that are applicable in discrete (think: migration rate between islands) or continuous (think: migration variance throughout a vast forest) environments, or both. This can be your typical mark-recapture set-up, but more and more often genetics-based methods are used. There are many ways to go about this, but one straightforward approach is to assess genetic difference between populations using their allele frequencies, a variable that then can be combined with the populations' physical distance to give an idea of gene flow history. Things become less straightforward when there's local selection involved, that favours one allele over the other and thus (partially) undoes the effect of gene flow. Which of the two processes predominates depends on both local selection and migration rate/variance. If local selection were the dominant process, different populations would have different alleles that fit their environment, and if gene flow were the dominant process, populations would have the exact same allele, also called gene swamping. The two processes often keep each other in somewhat of a balance, and understanding them can help trace past events and processes, and predict future developments (e.g. Love et al., 2023).
Life as an evolutionary biologist is complicated enough with just these two processes going on, but there's another one that comes into play: genetic drift. This process, that we heard about in blog 3 , is another source of genetic variation and it can be pretty complicated to find out whether it's this or local adaptation (or both) that cause genetic and phenotypic differences between populations. Mapping of entire genomes makes it possible to look for differences between them, and can offer a solution to this problem. A comparison between the genetic variance in neutral and "under selection" regions in two or more different populations, gives you information on both. As the neutral regions will have a certain amount of variance that's not a consequence of the environment favouring one allele over the other, this variance is most likely the consequence of genetic drift. The variance in the "under selection" region minus the variance in the neutral regions is than likely to be the result of local adaptation. It's as simple as that!
Understanding local adaptations in the context of dispersal to new areas can open a whole new can of worms/research questions. One might wonder how other species in the region have adapted to their environment in the past and are now dealing with a new species entering the stage. Ecological research often has a competition-for-resources angle (Simha et al., 2022), but could for example also focus on niche construction (Laland et al., 2016). It's thus virtually impossible that the entrance of a new species in an area will go unnoticed by the already present species. Researching this, however, requires somewhat of an understanding of how species are defined and come to be, which is our next topic.
Species and speciation
As we know now, species can adapt to new places that they disperse to, and to new circumstances that they're confronted with. This can ultimately lead to the formation of one or more new species, also called speciation. Before understanding that process, it can be helpful to look at its results: how do we define species as different from each other? The answer is that this is almost always is arbitrary, and the approach can be simple: "they look different". It gets a bit more complicated with "they can successfully reproduce", also called the Biological Species Concept (BSC), or quite complicated with the approach "they are the smallest set of organisms that has the same ancestor" which is one of the versions of the Phylogenetic Species Concept (PSC). Why do I write "one of the versions", you ask? That's because there's hardly ever a clear line to draw in biology: think of organisms that don't sexually reproduce, or different species that hybridise with each other! Besides that, our knowledge and technology keep developing, which means that these concepts are still and probably always will be under debate (see for example Wheeler & Platnick, 2000).
While it's easy to understand why spatially separated individuals of a species don't get their genes flowing, there's a bunch of less well-known mechanisms that prevent gene flow without geographical barriers. These are called Reproductive Isolating Barriers (RIBs), lead to speciation and can be divided in three main categories: pre-mating, pre-zygotic and post-zygotic barriers. Pre-mating RIBs mean that the male and female gamete never get to meet, for example because of a temporal mismatch or because the owners don't recognise each other's courting signals. For mating to turn into reproduction, we need a zygote to be formed. If there's a pre-zygotic barrier such as a mismatch in physique or unsuccessful fertilisation, that means yet another barrier. If all this works and we have a hybrid zygote, it might simply not be able to survive in the environment that its parent organisms are well-adjusted to. Or it might have high mortality in no matter which environment, or is unable to produce offspring, all meaning we have a post-zygotic problem. Post-zygotic barriers are often caused by mismatches between the genes of the respective parents and are often found on the site of the heterogametic sex, i.e. the counterparts of humans that have XY instead of XX chromosomes. Different forms of reproductive isolation (RI) aren't equally important, don't necessarily occur equally fast in time and affect each other. These complications mean that experiments and technology in the lab and the field are incredibly important for our understanding of what's (been) going on.
If we take a step back, we can at least say that evolutionary biologists have a pretty good understanding of what might be happening in individuals and their populations, and what processes and mechanisms can lead to the origination of a new species. There are several causes that can drive the processes that lead to speciation:
Ecological: two populations of one species adapt to different environments through natural selection;
Genetic conflict: a certain allele becomes very abundant but has negative effects on fertility, and another mutation, that repairs these effects, is incompatible with the "original" genetical set-up;
Sexual selection: sex A prefers certain visual, audio or other traits in sex B over other trait expressions, leading to certain varieties of certain traits always reproducing with each other instead of with other varieties in the species;
Reinforcement of RI: hybrids of two populations have lower survival or fertility meaning that they'll be less successful reproducing than individuals from the two populations within themselves;
Polyploidy: genome-duplication can result in a new species within one generation when tetraploid individuals are unable to reproduce successfully with individuals from the original, diploid populations;
Hybrid speciation: the hybrid(s) of two "parent" species become genetically incompatible with them;
Genetic drift: a population that becomes fixed for a chromosomal rearrangement, a consequence of genetic drift, may no longer be compatible with the rest of the species.
The latter, speciation through genetic drift, occurs especially in small or highly-fluctuating populations. It is an important pillar under the founder effect: the start of a new population by a few individuals. If these few individuals have undergone changes due to genetic drift and get isolated from the rest of the population, they can come to form a new species if their genetic make-up is incompatible with the population of origin. This can be especially interesting at the edges of species ranges (Figure 2a), and there are descriptions of how this process can occur multiple times in a row, leading to a "wave" of changes through mutation (Figure 2b). If this leads to allele frequencies becoming relatively and unexpectedly high, this is called genetic "surfing" (Excoffier et al., 2009).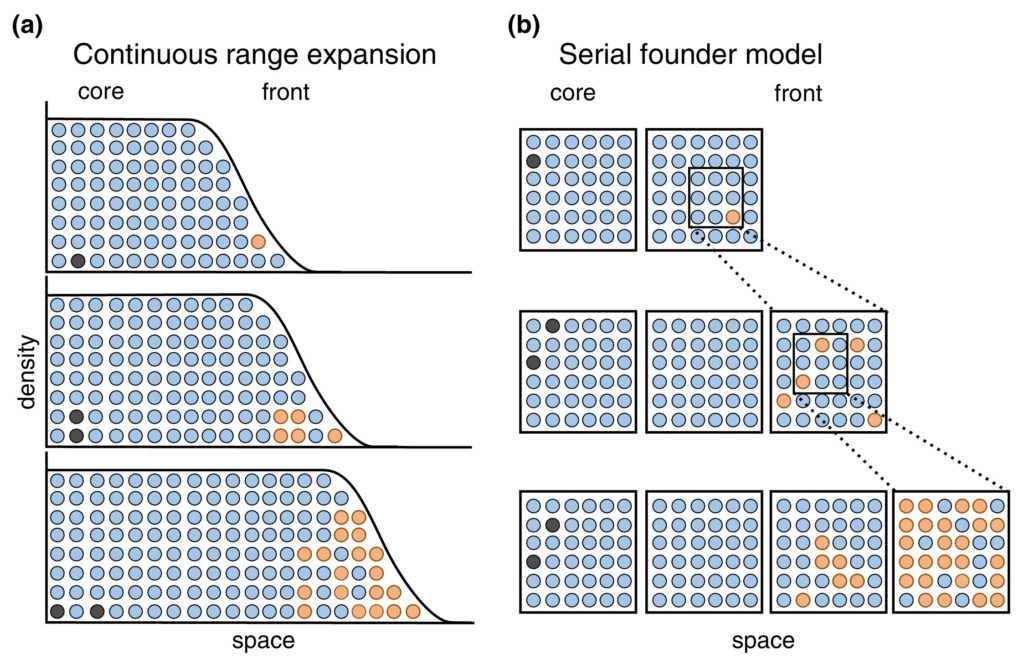 Figure 2. Allele frequencies a) during range expansion and b) during serial range expansion events. Derived from (Peischl et al., 2016).
While the founder effect is not fully understood or 100% supported by the literature, it's clear that the geographical aspect that underlies it plays a role in many speciation events. If gene flow is completely blocked off by a geographical barrier, we speak of allopatric speciation. Note that the degree of geographic isolation depends on a geographic barrier, not on geographic distance, and that the degree to which it is an actual barrier also depends on the dispersal capacities of the species in question. Barriers can have their source in the environment, e.g. a new river divides two grasslands in two, or in a species itself, e.g. a few individuals manage to leave the mainland to start a population on an uninhabited island. Both can lead to allopatric speciation, but neither of these two processes has to be irreversible, as the river can fall dry again or the island species might expand their range to the mainland. In both situations, the populations of the mainland and the island can become sympatric. In such cases, we speak of secondary contact between the populations where, depending on the degree of reproductive isolation, gene flow is possible.
Sympatric speciation and the intermediate process, parapatric speciation, still have some gene flow going on. The former doesn't depend on geographical barriers, but can depend on factors such as timing (e.g. flowering plants), local variation (e.g. soil characteristics) and behaviour (e.g. mating preferences). Sympatric speciation can reinforce itself if the allele in question is associated to another specific allele on another gene, which is rare but can occur when there's a trait variety that works on both ecological divergence and reproductive isolation. Called a speciation trait, this trait can for example cause individuals with a specific feeding preference to only reproduce with each other. Other non-random mating patterns can lead to parapatric speciation. This leads to subpopulations continuing to interbreed with each other while getting more reproductively isolated from each other.
While the patterns of speciation are not easily understood and mapping them can become easier in collaboration with fields such as paleoarchaeology and geology, there is a lot of variation within the genome that's left to be unravelled. The omics side of evolutionary biology can further the understanding of linkage equilibria, self-reinforcing processes and speciation genes and regions, to be able to understand what has happened in the past. Given the current pace of ecosystem degradation and destruction, we need this understanding of evolution to predict and, where possible, adapt to the future.
References
De Micco, V., & Aronne, G. (2012). Morpho-Anatomical Traits for Plant Adaptation to Drought. In R. Aroca (Ed.), Plant Responses to Drought Stress (pp. 37–61). Springer. https://doi.org/10.1007/978-3-642-32653-0_2
Excoffier, L., Foll, M., & Petit, R. J. (2009). Genetic consequences of range expansions. Annual Review of Ecology, Evolution, and Systematics, 40, 481–501. https://doi.org/10.1146/annurev.ecolsys.39.110707.173414
Futuyma, D., & Kirkpatrick, M. (2018). Evolution (4th ed.). Oxford University Press.
Laland, K., Matthews, B., & Feldman, M. W. (2016). An introduction to niche construction theory. Evolutionary Ecology, 30(2), 191–202. https://doi.org/10.1007/s10682-016-9821-z
Lenssen, J. P. M., Van Kleunen, M., Fischer, M., & De Kroon, H. (2004). Local adaptation of the clonal plant Ranunculus reptans to flooding along a small-scale gradient. Journal of Ecology, 92(4), 696–706. https://doi.org/10.1111/j.0022-0477.2004.00895.x
Love, S. J., Schweitzer, J. A., & Bailey, J. K. (2023). Climate‑driven convergent evolution in riparian ecosystems on sky islands. Scientific Reports, 1–9. https://doi.org/10.1038/s41598-023-29564-2
Peischl, S., Dupanloup, I., Bosshard, L., & Excoffier, L. (2016). Genetic surfing in human populations: from genes to genomes. Current Opinion in Genetics and Development, 41, 53–61. https://doi.org/10.1016/j.gde.2016.08.003
Simha, A., Pardo-De la Hoz, C. J., & Carley, L. N. (2022). Moving beyond the "Diversity Paradox": The Limitations of Competition-Based Frameworks in Understanding Species Diversity. American Naturalist, 200(1), 89–100. https://doi.org/10.1086/720002
Wheeler, Q. D., & Platnick, N. I. (2000). The Phylogenetic Species Concept (sensu Wheeler and Platnick). In Q. D. Wheeler & R. Meier (Eds.), Species concepts and phylogenetic theory – a debate (pp. 55–68). Columbia University Press.