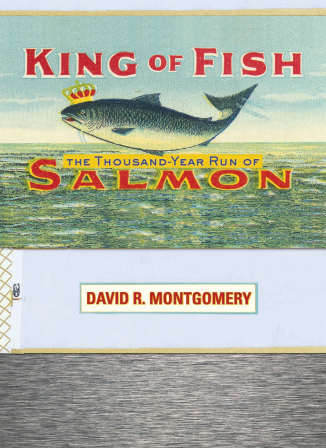 "King of Fish  – The Thousend Year Run of Salmon" är en välskriven bok av David. R. Montgomery som sätter den vilda laxen i ett socialt, historiskt och ekonomiskt sammanhang. Annektoter, historiska källor, vetenskapligt dokumenterad kunskap och entusiasm blandas för att ge en bild av fisken och människans relation till den. Författaren beskriver hur laxens historia (delvis) upprepar sig med kraftigt försvagade eller utplånade laxbestånd som ett resultat av överfiske, dammar och föroreningar i Europa på 1700-talet, på den amerikanska östkusten under slutet av 1800-talet och på den amerikanska Stillahavskusten under 1900-talet fram till idag. På de flesta platser och under de flesta tider har kunskap om varför laxen minskat inte varit det huvudsakliga problemet. I minst tvåhundra år har det pratats om upp- och nedströmspassage, begränsningar av fiske och habitatskydd men starkare ekonomiska och sociala intressen (industri, fiske, vattenkraft) har övertrumfat laxen. Och det är kanske dags att vi lär oss läxan, boken avslutas med en varning och sensemoral: "In the end, the resurrection or destruction of salmon will come down to moral and ethical issues – to value choices that society can make explicitly or continue to make implicitly. Do we want salmon in our rivers? Are we willing to drive species knowingly to extinction, even if only by looking the other way? The solution is not really all that mysterious. We simply cannot keep on doing things the way we've been doing them, or we risk losing the salmon. The choice is ours; the future is not. The sixth H in the salmon story also is ours to choose. Will it be hubris or humility?" 
Boken innehåller bland mycket annat även personliga beskrivningar av laxälvar, intressanta skildringar av laxens betydelse för den amerikanska ursprungsbefolkningen (med effekter på förvaltningen också idag), redogörelser för bevarandeåtgärder och diskussioner runt dem och en hel del fascinerande kuriosa. En viktig och intressant sommarläsning för den som är intresserad av lax i synnerhet och människans relation till naturen i allmänhet.
Boken lånas med fördel på ett välsorterat bibliotek men kan också läsas som e-bok.